. . . almost a continent!
Porto Pino Paradise. La più bella e fantasiosa perla del Mediterraneo.
Porto Pino Paradise Uno straordinario paradiso per la vita in simbiosi ed armonia con la natura.
Beaches with pink sand and crystal clear water, coves, dunes, cliffs, seabeds, lagoons and flamingos, pine forests, ancient junipers and Mediterranean scrub.
Porto Pino Paradise :
da non perdere
Appena arrivati a Porto Pino da dove cominciamo? 
Cosa non perdere anche in un soggiorno di pochi giorni?
Prima in spiaggia, poi una passeggiata?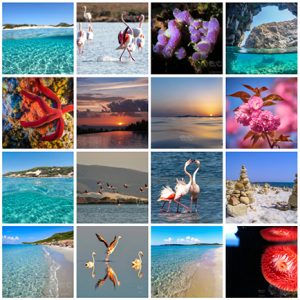 – Seconda Spiaggia e Dune
– Spiaggia dei Francesi e Calette
– Porto Pinetto e snorkeling a Punta Menga
Tempo libero dopo la spiaggia? Alcuni suggerimenti…
– Pineta Candiani e scogliera di Punta Menga
– Passeggiata naturalistica in laguna
All
SPIAGGE
LAGUNE
TRAMONTI
SUBACQUEA
SCOGLIERE
DUNE
COLORI